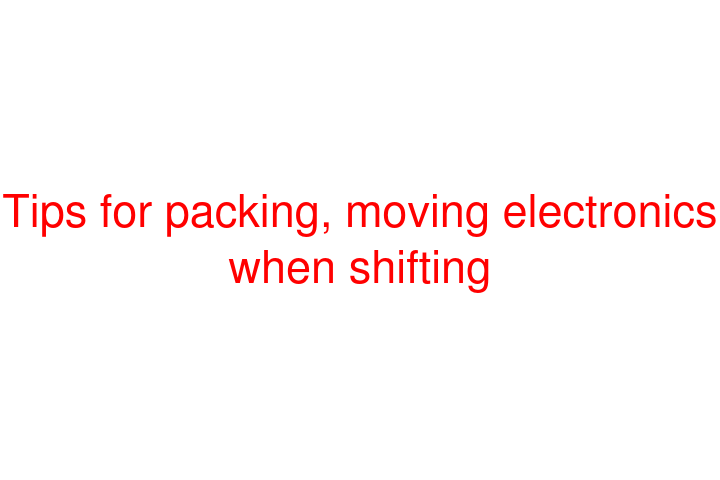 New Delhi, Nov 6 (IANS) Computers, tablets, video game systems, stereo equipment and televisions are all high worth investments which you want to save from damage when you are shifting home or office. Hire a professional company and be organised about the cords and remotes, suggest experts.
Rahul Pillai, CEO, Interem Relocations, suggests:
Save the original boxes and packing materials for repacking.

Essential packing materials: Electronics are usually very fragile and sensitive, so make sure you use enough bubble wrap, cushioning material and packing paper. Avoid using newspaper for packing, because electronics will not be safe under this protection.

Check the temperature in storage. Sensitive electronics such as computers and televisions may need to be stored in climate-controlled units. Seek advice from the manufacturer or your storage facility.

Mark the cartons: Clearly mark 'fragile' on the outside of cartons with breakables or delicate electronics. Also mark 'this side up' on items containing electronics.

-*-

Hansraj Budhiraja, CEO, AB Sea Container Pvt Ltd, said:

Organise your cords and remotes: Take photographs of how cords are connected to their devices for easy reassembling later on. There's nothing more frustrating than untangling wires and trying to figure out which electronic device they belong to.

Wrap up your cords neatly and label them so you know which cord belongs to which device. You could also use coloured stickers on each cord and the same colour sticker where the cord connects to the device. This will save you the hassle of trying to figure out what fits where.

Knowledge of packing: If you are lacking in knowledge regarding the packing of the electronic items, it would be better to read the user manual for the same. This will instruct you in the best manner so that nothing goes wrong during the process.

Moving inventory list: Make a list of the components in each box. Make sure you have got all the parts before you start assembling.
(This story has not been edited by Social News XYZ staff and is auto-generated from a syndicated feed.)
Doraiah Chowdary Vundavally is a Software engineer at VTech . He is the news editor of SocialNews.XYZ and Freelance writer-contributes Telugu and English Columns on Films, Politics, and Gossips. He is the primary contributor for South Cinema Section of SocialNews.XYZ. His mission is to help to develop SocialNews.XYZ into a News website that has no bias or judgement towards any.